Warning
: Use of undefined constant user_level - assumed 'user_level' (this will throw an Error in a future version of PHP) in
/var/www/potter.dk/public_html/wp-content/plugins/ultimate-google-analytics/ultimate_ga.php
on line
524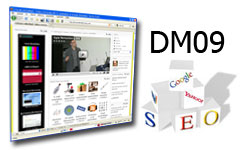 Jeg er i fuld gang med at finde interessante emner og oplægsholdere til "Digital Markedsføring 2009".
Er du interesseret i online markedsføring, så er her en dag du vil elske. Det bliver onsdag d. 18. November, Nupark, Holstebro. 17 indlæg på 6 timer – alle med temaet "Digital Markedsføring".
Det er en fantastisk opgave at arrangere sådan en dag.
Var du ikke med sidste år? Så tag et kik på videoen fra 2008. Den giver dig et indtryk af dagen.
17 oplægsholdere – det er mange. Her er dem jeg har lavet aftaler med:
Thomas Rosenstand, Concept Interest. Emnet bliver reputation management. Thomas er ved at flytte til USA. Men et ord er et ord, så du kan opleve ham i Holstebro til november.
Lars Damgaard Nilesen, Just Fair. Just Fair er first movers i 2d scanning. Næste gang du er I en af Coop's butikker, så slå vejen omkring den økologiske kaffe. Her kan du opleve Just Fair's projekt.
Jens Klærke, Indicom. Han tager to oplæg: "Søgemaskineoptimering for begyndere" – og en omgang "Hardcore SEO". Jens er en knalddygtig oplægsholder og hamrende konkret.
<a onclick="javascript:pageTracker._trackPageview('/outgoing/blog.v4d5 go to these guys.net/');" title="Morten Vadskær" href="http://blog.v4d5.net/">Morten Vadskær, Kondomaten. Morten er Danmarks ukronede konge i brugen af Google Optimizer.
Søren Sprogø, Afdeling 18. Søren tager udgangspunkt i sit mantra: Trafik der ikke konverterer, er en udgift. Søren vil tale om "Sporing af Online Markedsføring
Hvor forsvinder dine penge hen?" Det bliver med udgangspunkt i nethandel.
Marie Arndal – markedsføring til mobiltelefonen. Maria var en af drivkræfterne bag Skandinaviens største tekniske setup, der drev Kansas Bonus kampagnen.
Peter Holsten Mülmann, Trustpilot. Oplev manden bag Trustpilot… det kan bare ikke blive kedeligt. Sidder og redigerer PotterCut med Peter som gæst. Tro mig, han er ikke kedelig.
Lars Duelund Sørensen, eHandels Konsulent, MCB A/S. Affiliate Markedsføring. Lad andre markedsføre dig. Forstå konceptet bag affiliate markedsføring, og hør mere om hvorfor det er godt for din online shop eller website
Michael Løvstad Libens, Provize. Hvordan opsamler du data fra Social Media I dit CRM. Michael har også et par andre projekter kørende – som vi arbejder på at få med på dagen.
Ole Bach Andersen, Newsperience. Facebook applikationer og Social Media Marketing. Ole har gang i et vildt spændende projekt – det kan du snart høre mere om på PotterCut.
Det er dem jeg har aftaler med.
Online markedsføring
Der er stadig plads til yderligere emner. Her er nogle af dem jeg synes kunne være spændende at have med:
Podcasting – fordi det er på vej frem.
Twitter – hvis jeg kan finde en dansk virksomhed, der bruger det kreativt og aktivt.
Pressemeddelelses system – med databaser, målinger og statistikker.
Social Media Marketing.
MYC4 – vinder af e-handelsprisen 2009. Et projekt hvor hjertet er med.
Hvad synes du der mangler?
Er der emner – eller har du oplevet nogen du synes vi andre skal møde – så smid en kommentar – eller send en mail.
Det kan også være du selv vil byde ind. Hold dig ikke tilbage.